Sea Turtles are a special species added to the Bedrock edition of Minecraft. For the obvious reason that they are so uncommon. They are a much harder species to breed than most, and you can actually breed Sea Turtles. 
While the game's been out for a while now. Some players are still looking for help with finding out how to breed turtles in Minecraft. Here we'll take you through all the steps involved in breeding turtles in Minecraft. From luring in the adult turtles to creating eggs to hatching out the babies! You can create Turtle Helmets using scute, which is dropped by turtles.
How to find turtles in Minecraft?
You will find turtles spawning on beaches, but not in cold weather, stones, or cold water. Turtles will give birth to babies on beaches in the Overworld. Sometimes even baby turtles are found among the turtles. Let's take a look at how exactly one breeds a Sea Turtle in Minecraft before looking at more details. It requires two members of the species as well as at least two Seagrass items in order to breed Sea Turtles.
How to Breed Turtles in Minecraft
Step 1: The first step to breed a turtle you will need two turtles. Turtles can be found on the Beach. A turtle's natural habitat is either surrounded by water or sand.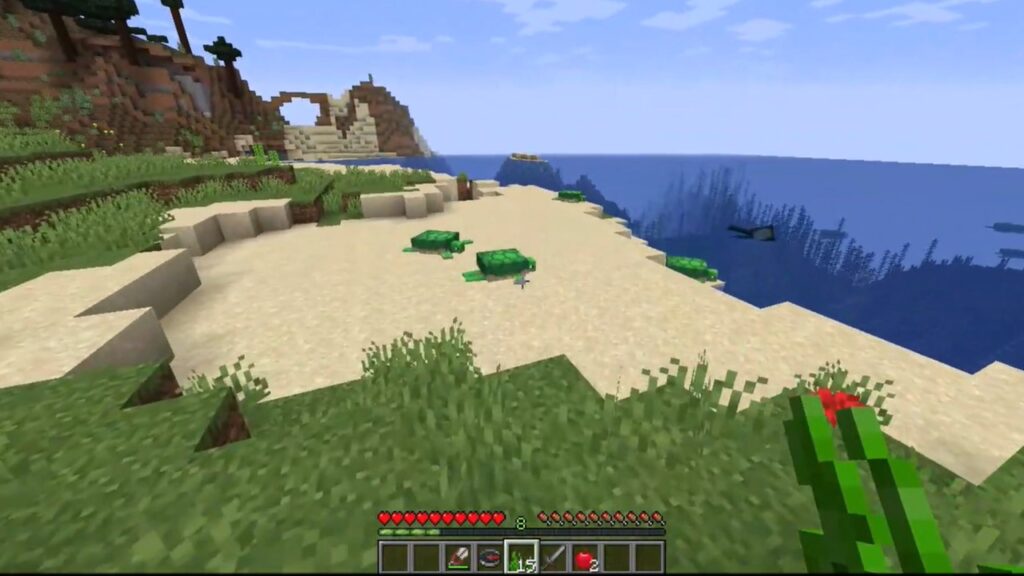 Step 2: We built a sand wall to keep our two turtles from running away from each other when breeding since the turtles will need to be close together during breeding.
Step 3: You then need to feed each turtle with seagrass once they are close together on the sand. Red hearts will appear over each turtle's head as you feed them seagrass. Each turtle is in love mode. Once both turtles have been fed, the red hearts will keep appearing over their heads as they turn to one another.
Step 4: The red hearts will disappear after a moment. When that happens, one of the turtles will begin digging in the sand. Eventually, after the turtle has finished burying itself, it will lay up to 4 eggs of varying sizes.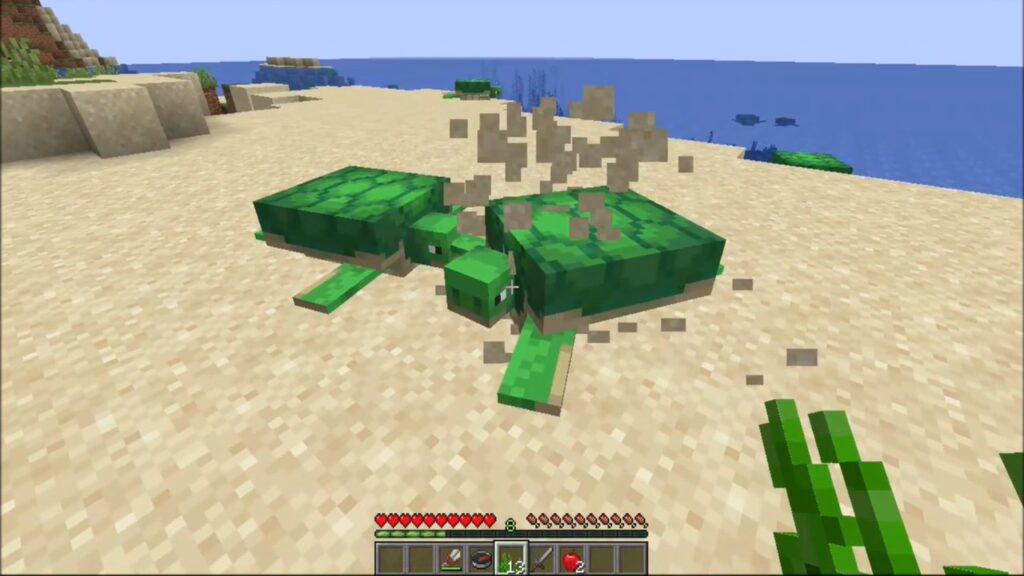 Step 5: The nest of turtle eggs will hatch into two turtles, each one with a clutch of turtle eggs. 
How do turtles in Minecraft help you?
There are many reasons why Sea Turtle breeders would like to produce cute and playful creatures, but cuteness and breeding itself are not the only reasons to do so. Turtles grow up into adulthood over time (if you feed 10 Seagrass items to a baby turtle, it will increase their growth as a turtle).
They will drop a scute when they reach adulthood, and by gathering five of these scutes into one turtle shell you can get access to the water breathing perks. Wear this shell and go diving and you will have access to all the perks that come with it.
It is also possible to make a potion called Turtle Master using turtle shells which is a potency that gives Slowness IV and Resistance IV.
Also read: How to Make a Water Elevator in Minecraft